My Blog
Posts for: February, 2015
By Raymond Clark DDS
February 24, 2015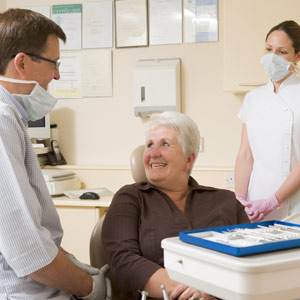 Implants are highly regarded by both dentists and patients for their versatility and durability. But it's their life-like appearance that "seals the deal" as the restoration of choice — not only mimicking an individual tooth, but emerging from the gum line and blending indistinguishably with other teeth in color and symmetry.
To achieve this result, we must consider a few factors beforehand, particularly the amount of bone available at the intended implant site. An implant requires a certain amount of bone to properly position it for the most natural crown appearance. The bone present around adjacent teeth can also affect your appearance: in the absence of adequate bone the papillae, triangular shaped gum tissue between teeth, may not regenerate properly between the implant and the natural teeth. This can leave a noticeable void, what dentists call "black hole disease."
Bone loss is a significant problem particularly after tooth loss. It's quite possible for you to lose a quarter of the bone's width in the first year after tooth loss. To avoid this, we often use bone grafting techniques immediately after extraction to lessen bone loss; if it's already occurred we may be able to use similar reconstructive techniques to rebuild and encourage renewed bone growth. In the end, though, if there remains a significant level of bone loss it may be necessary to consider another option for tooth replacement other than implants.
The thickness of your gum tissue, a genetic trait, can also have an impact on the implant's ultimate appearance. Thicker gum tissues are generally more resilient and easier to work with surgically. Thinner gum tissues are more susceptible to recession and tend to be more translucent, which could cause the underlying metal implant to be visible. Thus, working with thinner gum tissues requires a more delicate approach when trying to achieve a visually appealing result.
All these factors must be balanced, from implantation to final crown placement. But with careful planning and attention to detail throughout the process, many of these issues can be overcome to produce a satisfying result — a new and appealing smile.
If you would like more information on the aesthetics of dental implants, please contact us or schedule an appointment for a consultation. You can also learn more about this topic by reading the Dear Doctor magazine article "Matching Teeth & Implants."
By Raymond Clark DDS
February 09, 2015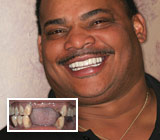 This is the story of a well-known man, fearless in most respects, who was afraid of the dentist. Even though his fears had resulted in neglect and serious damage to his teeth, modern dentistry and a talented dental team were able to restore his smile to health. If you share this fear, his story may inspire you to take action.
We're talking about William Perry, former defensive lineman and fullback for the Chicago Bears. Here is a man who could fearlessly face a football squad — but not a visit to the dentist. Nicknamed "The Refrigerator" for his 380-pound massive frame, Perry played for ten years in the NFL before retiring in 1994. Since retiring he founded and operated a construction company in South Carolina in addition to making celebrity appearances.
With his celebrity in mind, a team composed of a talented restorative dentist, implant surgeon, and lab technician agreed to give "The Fridge" a makeover. After discussing modern technology and virtually pain-free dentistry with him, they managed to overcome Perry's fears. "I had been in constant pain for many years and I neglected myself, not having had any dental care for over 20 years, not even emergency care. Unfortunately, as I grew older my teeth started to get loose," Perry told an interviewer. He had lost many teeth and became known for his gap-toothed smile.
Perry had severe gum disease and many of his remaining teeth were loose. In the past his only option would have been a full set of dentures. But his new dental team was able to place dental implants (permanent tooth replacements) supporting fixed bridges. In most cases dental bridges are attached to healthy teeth, but in Perry's case the implants served as anchors for the bridges. They also stabilized his jawbone, which would otherwise "resorb" or melt away after his teeth were lost. This is important because it helps preserve the contours of his face.
After careful planning "The Fridge" had eight dental implants placed in his upper jaw and seven in his lower. The final bridgework was completed four months later. It turned out that even though the gap between his teeth had become his trademark, "the Fridge" never really liked it. He was thrilled with his new smile.
Even if you have some fears, don't hesitate to follow Perry's example and make an appointment with us for a consultation about dental implants, smile makeovers, or bridgework. For more information about William "The Refrigerator" Perry, see the Dear Doctor magazine article "How Immediate Implants Saved 'Refrigerator' Perry's Smile."