My Blog
Posts for tag: nutrition
By Raymond Clark DDS
November 21, 2018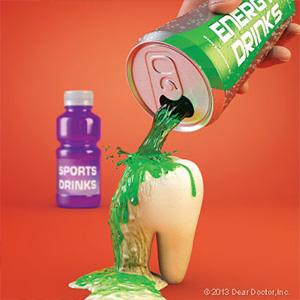 Although energy and sports drinks have different purposes, they have one thing in common: they often contain added citric and other acids to improve taste and prolong shelf life. Their high acid content can harm tooth enamel.
Although enamel is the strongest substance in the body, acid can dissolve its mineral content. And although saliva neutralizes acid after eating or drinking and helps restore lost minerals to the enamel, it may not be able to keep up if the mouth remains acidic for a prolonged period of time.
That could happen with both beverage types. While energy drinks have higher acid levels than sports drinks, both are high compared with other beverages.
A recent laboratory experiment studied the two beverages' effect on tooth enamel. The researchers submerged samples of enamel in six different beverage brands (three from each category) for fifteen minutes, and then in artificial saliva for two hours to simulate mouth conditions. They repeated this cycle four times a day for five days.
At the end of the experiment the enamel in the energy drinks lost on average 3.1 % of their structure, while the sports drink samples lost 1.5%. Although energy drinks appeared more destructive, the acid in both beverages caused enamel damage. Although there are other factors to consider in real life, the experiment results do raise concerns about both beverages' effect on dental health.
You can, however, minimize the potential harm to your enamel from energy or sports drinks. First, try other beverage choices lower in acid; water, for example, is a natural hydrator and neutral in pH. Try to only drink energy or sports beverages at mealtimes when your saliva is most active. And after drinking, rinse your mouth out with water to dilute any remaining acid.
And although it sounds counterintuitive, wait about an hour to brush your teeth after drinking one of these beverages. Your enamel can be in a softened state before saliva can re-mineralize it, so brushing earlier could remove tiny amounts of enamel minerals.
Taking these steps with energy or sports beverages could help you reduce the chances for enamel erosion. Doing so may help you avoid unnecessary damage to your teeth and overall dental health.
If you would like more information on the effect of sports and energy drinks on dental health, please contact us or schedule an appointment for a consultation. You can also learn more about this topic by reading the Dear Doctor magazine article "Think Before You Drink."
By Raymond Clark DDS
April 15, 2018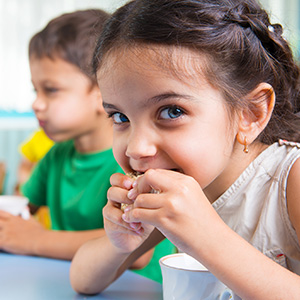 If you're committed to providing your family nutritional, low-sugar snacks, you're not only helping their physical well-being but their dental health too. If you have school-age children, though, you might be concerned about other snacks available to them while away from home.
To begin with, any potential problems at school with available snack items might not be as bad as you think. A few years ago the U.S. Department of Agriculture (USDA) established new snacking guidelines for public schools. Known as the Smart Snacks in Schools initiative, the new guidelines require schools to only allow snacks sold on school grounds that meet minimum nutritional standards. In addition, these guidelines promote whole grains, fruits, vegetables and low-fat dairy products.
Still, the guideline standards are only a minimum, which could leave plenty of room for snacks that don't meet your nutritional expectations. And school-offered snacks aren't the only ones available on campus: there are also those brought by other students, which often get swapped around. The latter represent tempting opportunities for your child to consume snacks that aren't the best for dental health.
But there are things you can do to minimize the lure of these poor snacking opportunities at school. First and foremost is to educate your child on why some snacks are better for them than others. In other words, make nutrition an instilled family value—and, of course, practice what you preach.
You can also send them with snacks you deem better for them than what's available at school. Of course, you'll be competing with a lot of exciting and enticing snacks, so try to inject a little "pizzazz" into yours like a dusting of cinnamon or a little parmesan cheese on popcorn. And use a little creativity (even getting your kids involved) to make snack choices fun, like using cookie-cutters to shape whole-grain bread and cheese into shapes.
And consider getting involved with other parents to encourage school administrators to adopt stricter snack standards over and above the Smart Snacks in Schools initiative. This not only may improve the nutritional content of available snacks, but also transform a "family value" into a community-wide appreciation for snacks that promote healthy teeth and gums.
If you would like more information on dental-friendly snacking, please contact us or schedule an appointment for a consultation. You can also learn more about this topic by reading the Dear Doctor magazine article "Snacking at School."
By Raymond Clark DDS
February 21, 2016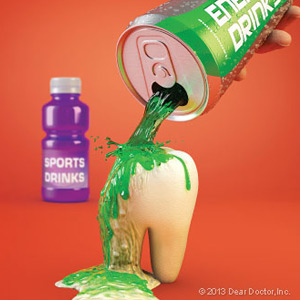 Sports drinks have been widely touted as an ideal way to replenish carbohydrates, electrolytes and, of course, fluids after a strenuous event or workout. But the mixtures of many popular brands often contain acid and added sugar, similar to other types of soft drinks. This can create an acidic environment in the mouth that can be damaging to tooth enamel.
Of course, the best way to replenish fluids after most strenuous activities is nature's hydrator, water. If, however, you or a family member does drink the occasional sports beverage, you can help reduce the acid impact and help protect tooth enamel by following these 3 tips.
Avoid sipping a sports drink over long periods. Sipping on a drink constantly for hours interferes with saliva, the bodily fluid responsible for neutralizing mouth acid. But because the process can take thirty minutes to an hour to bring the mouth to a normal pH, saliva may not be able to complete neutralization because of the constant presence of acid caused by sipping. It's best then to limit sports drinks to set periods or preferably during mealtimes.
Rinse your mouth out with water after drinking.  Enamel damage occurs after extended periods of exposure to acid. Rinsing your mouth out immediately after consuming a sports drink will wash away a good amount of any remaining acid and help normalize your mouth's pH level. And since water has a neutral pH, it won't add to the acid levels.
Wait an hour to brush after eating. As mentioned before, saliva takes time to neutralize mouth acid. Even in that short period of time, though, acid can soften some of the mineral content in enamel. If you brush during this "soft" period, you may inadvertently brush away some of the minerals. By waiting an hour, you give saliva time not only to neutralize acid but also restore mineral strength to the enamel.
If you would like more information on sports and energy drinks and their effect on dental health, please contact us or schedule an appointment for a consultation. You can also learn more about this topic by reading the Dear Doctor magazine article "Think Before you Drink."